on Thu Jul 26, 2018 12:47 am
Avatar Image: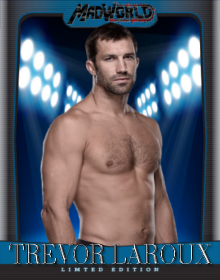 Wrestler Name: Trevor Laroux
Alignment: Face
Weight: 255 lbs
Height:  6'8"
Nationality:  Canadian
Gimmick: Vengeful Spirit
Bio: Trevor Lauroux a former member of an small company in the british isles was where he learned his craft but unfortunately after an accident he turned to one that focus on avenging the pain he felt and that the others felt.
Taunts:
1. Clock Motion with hands: Trevor Laroux does a ticking clock motion and yell thick thock thick thock times running out
2. Cut-Throat : Just regular cutting throat motion that is used by many.
Signature Moves:
1. Suplex Piledriver - Trevor Laroux lifts the opponent straight up in a suplex motion and then turns the opponent then goes down in a piledriver motion
Finishers:
1. Judgement Lock - Trevor Laroux locks up with the opponent and goes in a Full Nelson lock and looks around and then bulldogs the opponent down setting his arms to lock in the submission and placing his legs next to there head for leverage.

Permissions in this forum:
You
cannot
reply to topics in this forum